< Back to blog
Written by Bermudiana Beach
Where are the Best Places to Eat in Bermuda? 10 Must-Visit Eateries
Own a slice of paradise
Condos still available to buy
Combining a unique blend of British, African, Spanish and Caribbean influences, you'll never be short of cuisine options when you're in Bermuda. The culinary landscape here is as diverse as it is delicious, so it's no surprise that the locals have long taken pride in the national food and drink.
So, if you're still asking, 'Where are the best places to eat in Bermuda?' check out the island's food scene packed full of flavorful opportunities you can enjoy, from celebrity-run restaurants to smaller hidden gems.
1. Beach Club Restaurant
Stepping off the legendary pink Bermudian sand and into the Beach Club Restaurant will leave you thinking you're in a glamorous Hamptons cafe.
Perfect to go with your friends or to take your family along. You'll eliminate that fear of missing out while enjoying the chic, nautical-themed decor and the delicious range of food on offer.
Image Credit: Rosewood Bermuda
The surroundings and spectacular views are just an added bonus. Sit back and enjoy a generous platter of fresh raw seafood and complement it with a glass of Sancerre. To really get the full experience here, make sure you sample the bearnaise sauce-drizzled catch of the day - which can be anything from rockfish to wahoo.
2. Woody's Sports Bar
Woody's Sports Bar is located in a bungalow-style structure right off the beach with a unique twist on pub food. In fact, it's so popular and well-loved, you might even spot the occasional movie star paying a visit.
This popular hangout is always bustling with locals on nights and weekends. The atmosphere is so much fun that even tourists can feel like a local Bermudian in no time. When it comes to food, don't even think about leaving before you've tried their fried fish sandwich.
3. The Lobster Pot
The Lobster Pot at 6 Bermudiana Road, Hamilton has been Bermuda's premier seafood restaurant for more than 45 years.
Image Credit: Bit of Bermuda
Sailors and landlubbers all like to meet here to enjoy the very best in fresh seafood from Bermuda and foreign waters.
The Lobster Pot offers alfresco dining year round on our patio.
4. The White Horse
The White Horse Pub & Restaurant is located at 8 Kings Square, Saint Georges. It is one of the oldest and most famous pubs in Bermuda.
Image Credit:Tripadvisor
The White Horse is well known for its great pub food and lively bar scene - a place where locals and visitors come to eat and have a great time.
5. Rock Island Coffee
As soon as you step into Rock Island Coffee, you can feel the good vibes and the freshly brewed coffee definitely helps.
It's the perfect way to start any morning. Soak in the casual and artsy atmosphere, sip on a variety of drinks while checking out the display of local art (which you can also buy!).
Any drink made with freshly roasted beans is worth a try, so it really depends on what you're in the mood for. The usual favorites include a caramel latte made with whole milk or even something as simple as a macchiato.
Although, if you're feeling a little adventurous, go ahead and try their Mexican hot chocolate.
6. Wahoo's
Local staff, spectacular views from the patio and solid food - you can do no wrong by visiting Wahoo's. It's guaranteed to be a top recommendation by any islander that you ask.
According to local Bermudians, not all rum swizzles are created equal and Wahoo's version simply can't be missed. The best part? The rum swizzle here is perfect for pairing with some of the finest delicacies on offer.
Image Credit: Bermuda
Ceviche, conch fritter, fish chowder, Wahoo nuggets and Rockfish Picasso are just some of the dishes you need to try. Although, the fish tacos are - without a doubt - a staple here and well worth the drive to St. George's Parish alone.
For the full experience, eat and drink on the patio during sunset.
7. Harry's
Whether you need a power lunch, you want to have dinner to celebrate or enjoy a casual happy hour, Harry's is the place to visit. Plus, you can't get more local than this as it was opened by Bermudian businessman, Will Cox, as a tribute to his late father.
The must-have drink to kick off your night simply has to be Harry's Special Rum Blend. This is a collaboration between Harry's and Gosling's Rum, Bermuda's native spirit brand.
Image Credit: Forbes
To really eat like a local, order the Harry's classic and enjoy a bottle of wine from the cellar. This is complete with shrimp cocktail, an iceberg wedge salad, a 14oz New York Strip steak and followed by a slice of heavenly cheesecake.
8. Fourways
Fourways offers a dining experience like no other on the island. The restaurant is set in a traditional Bermuda building with limestone walls, arches and surrounding gardens. It is the only restaurant in Bermuda that still offers a live pianist every night.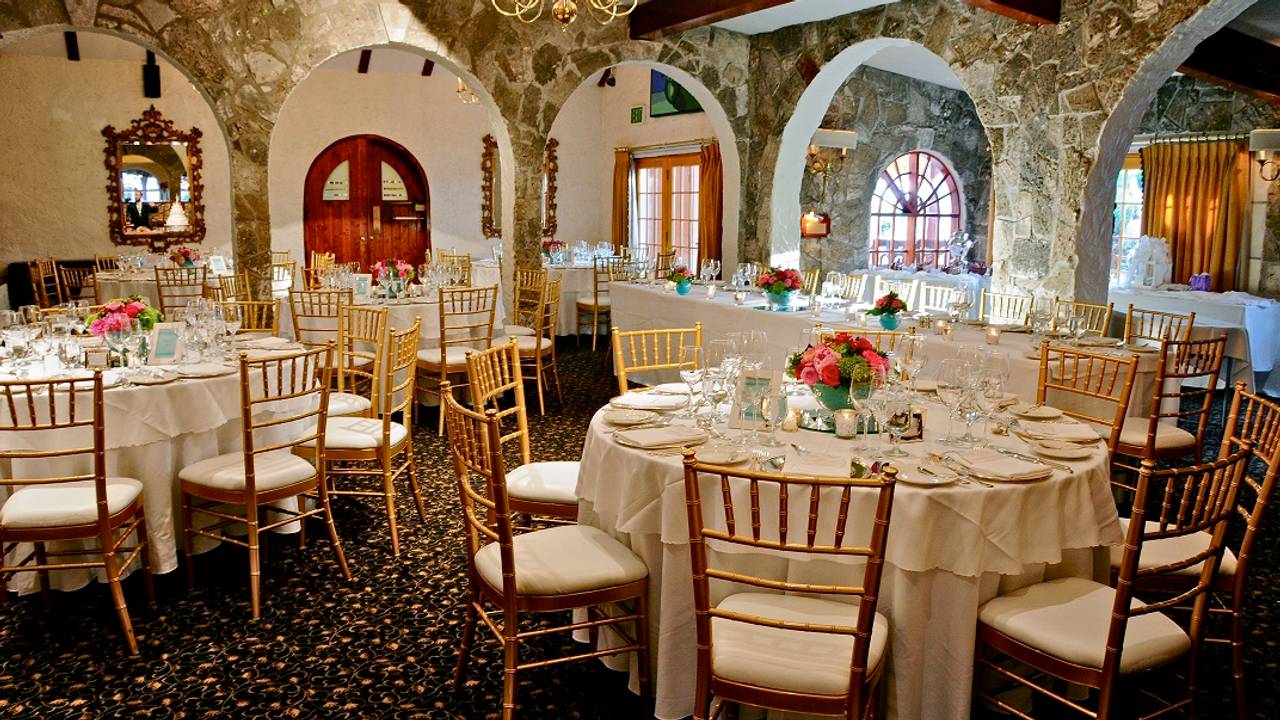 Image Credit: OpenTable
Fourways offers a great dining experience in sophisticated seclusion in the comfort of the Cottage Colony. Try the Showman Special or the 2-Hour Bottomless Brunch!
9. Bouchée Bistro Français
Quality food in a casual setting - this feels somewhat like a diner but the bistro is excellent for family dining. Plus, the hearty brunch always hits the spot.
This popular breakfast and brunch bistro is both charming and friendly. You'll often find the locals digging into The Big English. This includes two eggs, bacon, sausage, grilled tomato, sauteed mushrooms, baked beans, toast and seasonal fruit on the side.
Image Credit: Bouchee
Or for something different, try the Huevos Benedict. This includes two poached eggs on an English muffin, topped with avocado, salsa and hollandaise sauce.
10. Devil's Isle
Nothing in Bermuda is as versatile as Devil's Isle. Coffee roaster, earthy bistro and a craft cocktail bar - this location does it all and is perfect for a casual bite. Despite being a local favorite, it's that type of trendy spot which will have you feeling like you're in California.
Swing by for some of the finest dishes you can possibly try. Rockfish tacos, ramen bowls, grilled tacos and charcuterie boards are perfect for lunch. Or, sample the weekly specials such as the Mexican enchiladas with pulled chicken, scrambled eggs, avocado and tomatillo sauce.
See More on What Bermuda Has to Offer
To get the full Bermudian experience, go ahead and download our 12 Months in Bermuda guide to see what else this luxurious getaway has to offer.
From the types of activities you can take part in, the wildlife you can see, the best times to visit and so much more - it's all in this guide. Click the link below to get your free copy.
GET AWESOME UPDATES IN YOUR INBOX EVERY WEEK!*
Keep up to date on all our latest news and offers! Just add your email. It's that simple.